Signing Day Victory
The Rowlett High School varsity girls basketball team gathered in the gym to congratulate captain and senior student Ngozi Obineke at her Texas Woman's University Women's Basketball team signing ceremony.  She is flying high with her RHS Eagle wings and will become a TWU Pioneer freshman in fall of 2019 with aspirations to be a pre-med major.
"I am very excited, moved and feel very proud of everything I've done to get it. I am happy because TWU was where I wanted to go," Obineke said.  "I love playing for Rowlett.  My teammates are funny and they have a good vibe."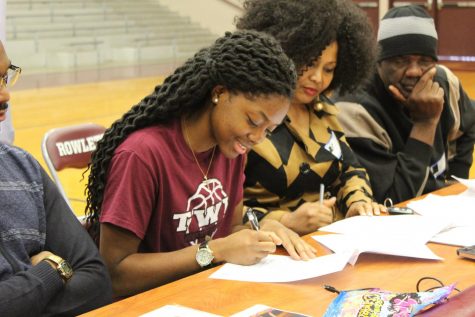 When asked how she felt about Varsity Coach, Alexa Hill, Obineke said, "She made me into a better leader and as a captain, she helped me to challenge myself, and bring up the team up.
As well as academic goals, her future goals on the court include averaging a double double in her collegiate basketball career.
Obineke's greatest supporters have been her family over the past six years of playing the game. .