A Punch of Determination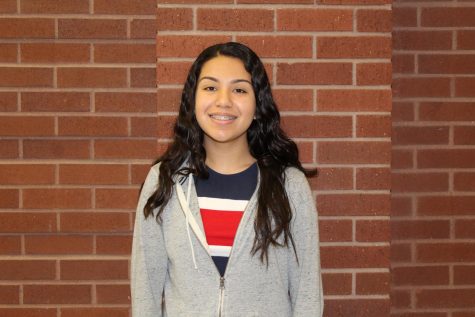 If you look at Aylen Moreno, she appears to be your average sophomore student walking the hallways.  She might be petite in frame and short in stature but packs a powerful punch.  Moreno has been boxing for two years for the with the Garland Police Boxing Gym and has become trained fighter with six fights under her belt.  She originally starting boxing to become physically active and lose weight but now She's fallen in love with the sport.
"What interest me most about boxing is that it's a great stress reliever," Moreno said. "To train for fights I run a few miles everyday, I hit the bags and my coach makes me hit mitts.  During fights, I try to get as many punch points as I can."  She said during fights, she gets tired of punching but keeps swinging even when she wants to stop.
The Garland Police Boxing Gym takes education seriously.   Every progress and report card, she is required to show her grades to her coach.  "If I am failing,  they have a teacher that tutors and helps me with my homework."
Moreno is currently training for an upcoming fight.  "The most challenging thing is fighting older and more experienced fighters."