RHS Places First at the Academic Decathlon District Competition
RHS students on the Academic Decathlon team competed at the district meet this past Wednesday and Saturday and placed first again with 88 individual medals.   Octathlon placed second with 54 individual medals.  The team competed in the speech and interview category as well as the superquiz.  The theme for this years competition was the 1960's.
Math teacher Dawn Shanks and social studies teacher Jacka Brandler are the academic decathlon team coaches that have spent countless hours preparing are now gearing up for the next step.  Biology teacher Martha Rainey and English teacher Hanna Swamidoss are the very proud academic octathlon coaches that led the team to their success.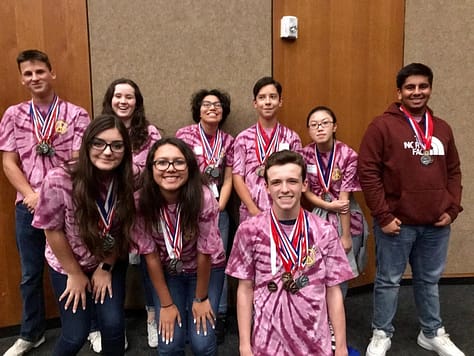 Shanks said, "The decathlon team competed in ten events.  They wrote an essay write before Thanksgiving break, speech and interviews…the objectives were math, music, art, social science, science, economics, and language and literature."  In order to prepare for such diverse subject areas, the team received a binder last May and was required over the summer to read the material and write a speech.
"The team is like a close knit family and they not only study but like to have fun together," said Shanks.
RHS teachers Tina Brown, Davalyn Dixon, Dena Jones, Stephanie Dingle, Molly Buchanan, Tiffany Karns , Lacy Harris and Jim Hannon volunteered their time and support to make this a successful meet.
The decathlon team will compete in the upcoming regional meet February 8th and 9th against seventeen high schools in Region 10.